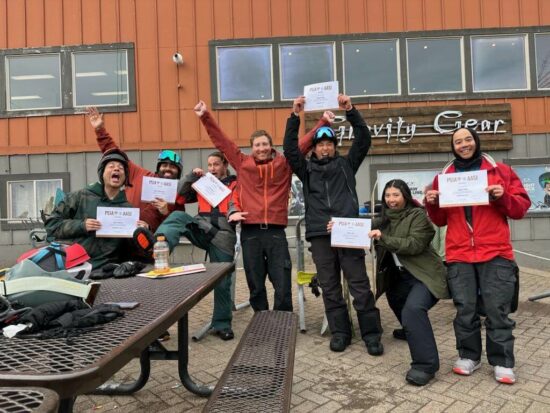 Organizations like the Service Board and EDGE Outdoors step in as the first responders to their communities
The Pacific Northwest is known for incredible outdoor activities, but for many people, these activities are out of reach. Luckily, there are many organizations working to increase access to development and education in the snowsports industry for marginalized communities. EDGE Outdoors and the Service Board (tSB) are just two of those organizations making a difference. 
the Service Board works with high-school aged youth to provide access to snowboarding, social justice education, and leadership development, while EDGE Outdoors is working to attract and retain women of color in snowsports. tSB relies on volunteer snowboard instructors from the community to provide ongoing lessons to young people every year. These volunteers dedicate their free time to share something that they are passionate about. But even for tSB's volunteer snowboard instructors, who are often also from marginalized communities, barriers to continued development in snowsports exist. 
Beyond the cost associated with accessing the sport or gaining certifications, the culture of snowsports is a huge barrier. Changing the entire industry is a huge challenge, but organizations like tSB and EDGE are starting small by creating a space where mentors and snowboard instructors reflect and validate the identities of youth who are starting to access the sport. As a young person, having someone who knows the struggles you've been through, walked your path, or even grew up in the same neighborhood is huge!  
This year, EDGE and tSB worked together to get a group of tSB snowboard instructors American Association of Snowboard Instructors (AASI) certified with the support of PSIA-AASI Northwest. With this partnership, the two organizations and PSIA-AASI Northwest's CEO Kirsten Huotte, are cultivating a community-based approach to providing training and development for snowboard instruction at zero cost to participants while addressing economic injustice and systemic issues with gender and race equity. 
Local organizations are the first responders to their communities, and local grassroots community initiatives like this one are the seed to providing justice and equity. This new partnership is exciting for the community, and it's just the beginning! Both organizations hope to address the gap that is present when tSB youth no longer have access to snowboarding after they finish the program. The hope is that youth participants from tSB are able to return in different capacities over the years and continue their journey in snowsports. 
Education and certifications should be available to everyone, especially marginalized identities in snow sports. Recently, there are a lot of educational resources highly targeting women of color. While that is important, we should remember that the catalyst for many industries' DEI initiatives was the heinous murder of George Floyd, a Black man. Our specific aims are to support each other and create accessible and free educational opportunities for our community members. We're excited for how this partnership will grow in the future. 
Black and indigenous-led organizations have the deepest impact, however, our initiatives have received the least investment. If you would like to contribute to our educational fund, you can donate to EDGE Outdoors and the Service Board.