tSB is Reaching New Heights
We are thrilled to announce that we have launched a three-year, $200,000 campaign focused on deepening tSB's work. A small number of community members have already pledged nearly $60,000 and we have an anonymous donor that will match any gifts made this year (up to $15,000). Help us get there!
Last Spring, tSB surveyed students, alumni and mentors with the question: how can we serve you better? The answer was clear: create more opportunities for tSB youth to stay involved longer. The County has identified a clear resource gap for young adults and national research supports this need. By continuing our connection to students, we increase our impact and strengthen our community.
Increase the number of program offerings for tSB alumni, formalize and expand leadership development opportunities.
Increase the total number of youth participating in high-quality, high-impact programming.
Increase the duration and intensity of programming for all tSB students, on and off mountain. Increase programming opportunities, formal leadership opportunities for all tSB students.
Build a reserve fund to ensure program has resources necessary and is able to adjust to community needs.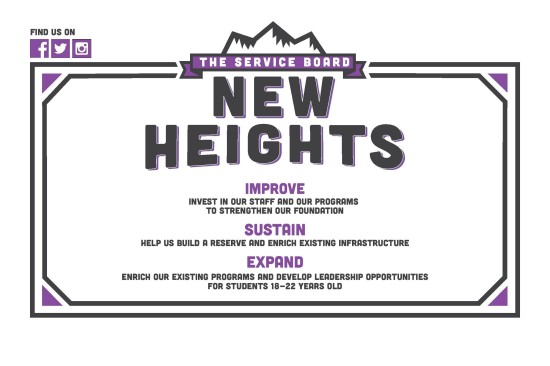 Soiree success: with your help, we raised $100,000!
My name is Phelix and I was a peer leader last year.
I also plan on returning to tSB (because this program has changed my life so much and I love it here, it feels like home) as a helping hand and hopefully help lead things again. I was invited by the lovely Ashley Miller to come and volunteer with the setup of the Soiree. This was my first time coming to a Soiree and I had no understanding of how much of an amazing time it would be. Every where I looked there was people mingling and having a good time just being around each other. There was so much support from the audience while some tSB speakers were sharing their stories of why they so dearly cared for this program. There was just so much love in the air seeping out of almost four hundred people. I was speechless when I saw that all of this years donation goals were not only met but exceeded.
It just seemed like such a perfect night, the decorations, the food, the guests, and all of my friends and mentors. I so glad I had the opportunity to come and experience such an amazing thing. I will definitely be back next year to help setup and continue the tSB spirit. Thank you all of tSB for doing what you do, I hope that I can help spread the same message as you guys wherever I go on this planet. I would also like to thank all the donors for helping this wonderful program stay alive!
Special shout outs to: Via Tribunali, evo, EJK Accounting & Tax Services, Caffe Vita, all of our auction donors, the beautiful table captains and our incredible volunteers.
P.S.: If you haven't checked out the photo booth pictures, do it here!