In the sun of last late August, we held our annual tSB Lu'au, where tSB family and friends came together at the Nectar Lounge to celebrate another successful year of tSB programming and the community that gave a hand in crafting it. Pairing together Hansen's soda pop and Pai's yummy Hawaiian plate lunches, the audience soaked up sun while live music by tSB artists such as Khingz, Militant Child, and Paris Randall played on the main stage. The floor was packed with dancing bodies, and the line for Pai's kalua pig, lemongrass chicken, organic tofu, and special tSBlue Marlin was wrapping around the corner! It was the perfect opportunity for everyone to say hello and good bye to summer, especially the students that are going back to school for the fall.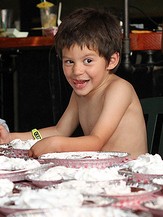 The highlight of the night was definitely the pie eating contest! Each contestant had 3 platters of chocolate-puddin'-pie placed in front of them. At the mark, the competitors began to chow down on the pies, painting their faces with pudding. After five minutes, a tie between Peer Leader Maryyah T. and tSB friend Justin W. was declared! Congrats and thanks for being such great sports!
The other contests that we had throughout the night included Best Hawaiian T-shirt (which Nico, left, won. What's more Hawaiian than no shirt at all?) and a raffle that included prizes such as a year's supply of Caffe Vita coffee and chocolate, a rad Spacecraft art piece, and a backpack chock-full of snowboarding gear and goodies!
After all the contest fun and live performances, the mic was open to a night of karaoke. SWV's 'Weak', Aretha Franklin's 'RESPECT', and Jagged Edge's 'Where the Party At' were performed by youth, mentors, and friends. After Viral performed, he was so inspired that he proposed to our Board Member Aparna (she said yes). Everyone was sharing laughs and making awesome memories that tSB is known for.
Thank you to all of the guests that made the lu'au a blast!

Check out all of the photos from the Lu'au here!
Special thanks to our sponsors: Nectar Lounge, Pai's Foods, EJK Accounting and Tax Services, Where Ya At Matt, Pacific Continental Bank, Caffe Vita and Via Tribunali, Spacecraft and evo.