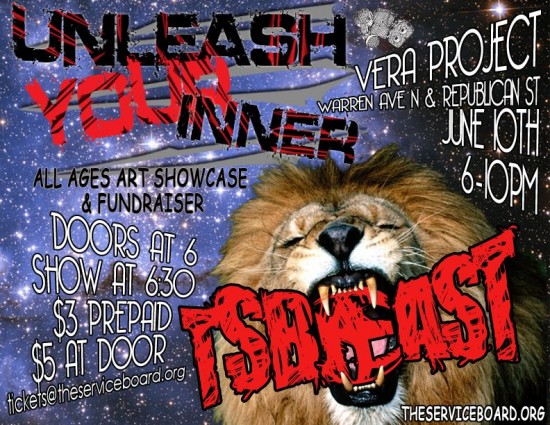 WHO: The Service Board + You in all your awesomeness!
WHAT: City-wide annual showcase with dope, head-lining performers, youth acts, a scrumptious bake sale, a silent auction brimming with one-of-a-kind art, photobooth, and costume contest!
WHEN: FRIDAY THE 10TH, 6-10PM! $3 Preorder $5 at the door!
WHERE:Vera Project (Warren Ave N & Republican St.)
WHY: To support the Service Board, an amazing youth mentoring program that changes li……ves and communities for the better!
_____________________
The Service Board presents: tSBEAST: Unelash Your Inner Animal!
It's our amazing annual youth showcase featuring head-lining artists such as:
STEPHANY HAZELRIGG
KHINGZ
VICIOUS PUPPIES
SHELDON BOTLER
MANDY YU
LUZVIMINDAUZURI
IRENE MULLER
and a long list of others!
We will be featuring a SILENT AUCTION with unique art and goods that will go towards supporting tSB.
A tSBAKE SALE will be selling sweets at sweet deals! Yummy for your tummy.
COSTUME CONTEST! Suit yourself up in dope beastly animal attire and we'll choose the best of the night to win an awesome prize! Bring your whole squadron out in beastly gear and have a photoshoot in our booth to save the memories!