Summer is drawing to a close and tSB is showcasing the amazing work Seattle youth have been doing throughout the greater Seattle area.  During the summer months many teens are faced with a large amount of time and very few positive ways to fill it. tSB has answered this community issue by giving youth the opportunity to explore positive expression through art,  volunteer opportunities and skateboarding. Now our youth want their story to be heard through the Art of tSB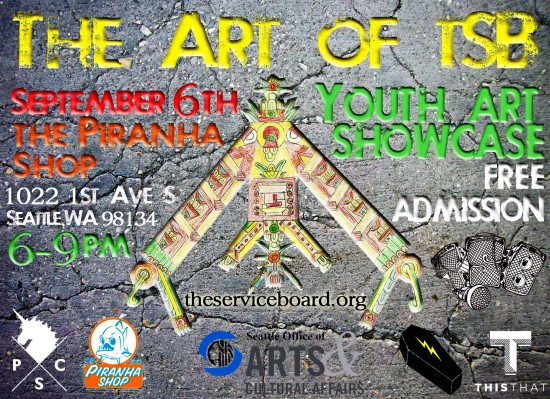 Come hear and help share this story.  Our youth have spent the summer learning the art of documentary films and have crafted their own films about their summer in tSB. They have been educated by Puget Sound Creative in every aspect of building a film including storyboarding, interview and marketing. The youth have filmed their skateboarding progression and the impact of their service learning projects around different Seattle skate parks. The summer has also included other art projects that will be on display including silk screening, bench making and glass blown pieces.  In order to give the full spectrum of work in the arts, the youth were introduced to careers in the art field including touring the Mervin Manufacturing company and seeing how art and design make can come together to make snowboards!
The event is free and open to the public. There will be light hors d' oeuvres and a short presentation to highlight the impact of the tSB Arts in Service program.