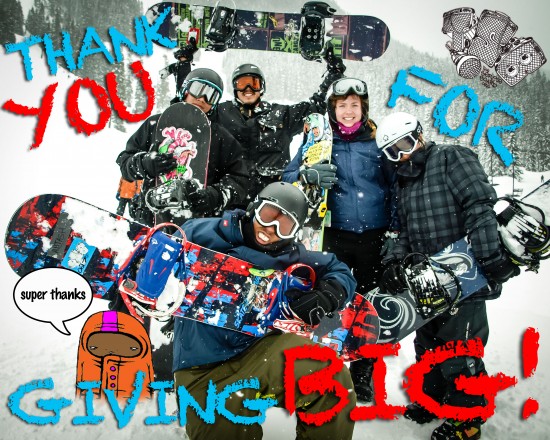 THANK YOU TO OUR COMMUNITY FOR PARTICIPATING IN GIVE BIG!
Together we raised over $10,000 for our annual Hood trip and beyond!
Right now the Service Board is wrapping up another year of mentoring youth to conquer mountains on a board, in their community, and in themselves. This means one of the most important parts of tSB is fast approaching: the Hood Retreat.  Every June we pile all of our youth and mentors into vans and drive down to Mt. Hood to push our growing edge one last time and to solidify the family ties that have been built over the last 6 months. For youth like, Tyvon, this trip is the most important part of tSB.
Mt. Hood was a life-changing experience. The snowboarding is great, no doubt, but that wasn't the highlight in my eyes. The experience going down to Oregon, with our second family, and connecting the way we had makes this trip all the more worth it and important to our lives. The joy, happiness, smiles and tears that comes with every activity on this trip makes everything so exciting and not a single negative thing happens going there. From the hike, to dinner and to the heart circle at night, if I hadn't gone on the trip the first time, I wouldn't be as happy nor outgoing as I am today.