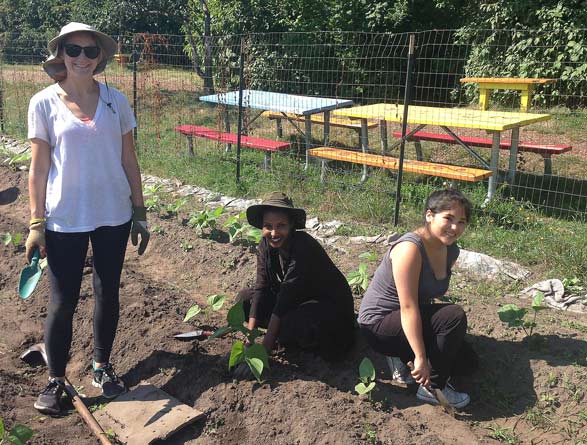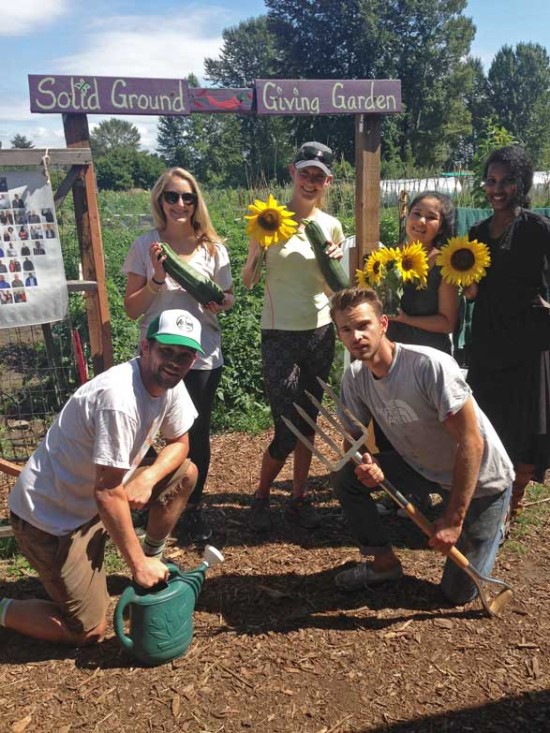 By Hafsa Mahamoud, the Service Board Intern

I remember the first time I set foot at Marra Farm. It was a tiny patch of land with a couple of small plants barely growing. It wasn't that hot and there were about 45 other people there doing the same thing as me. I wish I could have done more, but starting the garden is the easy part, especially with so many volunteers to help. I remember thinking, "I cannot wait to see what this turns into!" So you can imagine my reaction when my tSB co-intern Yume decided to email Marra Farm about volunteering there yet another time.
I think everyone is dying to know how we survived in blazing 85 degree heat and how the "city-slickers" fared with manual labor farming. You could say I'm normally the 'eat food but don't know where it comes from' type of person but that day everything changed because I was ready to get down and dirty.
I learned a lot about evo through the internship but being with the staff a little more showed me what they have done and where they have gone which was fun to listen to. I listened to them talk about international trips and other life experiences. I told them more about the Service Board because without them, I would not have exposure to stuff like this and people like this. Also, by being a Muslim black female, it's not easy to get around the community, but now I can say I have experienced a lot and way more than my mother or grandmother and it's because of the help of people like tSB and evo.
At the end of the day, when we were tired and exhausted from all the heat, Jill from tSB showed up. She took pictures, which you can see below. It was a fun day for all of us and this time I did not just stand around—I actually did a lot.
This Marra Farm Volunteer Day that Yume and I set up with the help of Sara from evo and tSB staff set was perfect, and I hope to do this some other time with more evo staff and tSB people. Visiting Marra Farms is a great way to learn about sustainable food options for low income families; to become part of a bigger, more permanent solution to help people eat healthier;  and to dig in the dirt and learn about the world around you.
More about the internship program…
By Sara Bloom
We love working with the Service Board because their program mentors teens to "conquer personal and cultural challenges through public service and outdoor adventure". This aligns perfectly with evo's desire to give back to the community through athletics and adventure.
The opportunity was presented to one of the evo employees, Sara Bloom (that's me!), to help mentor two tSB interns, Yume and Hafsa, to provide them with work experience in an office-style environment. Hafsa just graduated high school and will be attending Western in the fall and Yume is going into her Junior year in high school. The girls picked a charity called Marra Farms that they wanted to work with and set up a volunteer day for evo employees to participate in.
They spent several hours at evo once a week for four weeks to plan and organize the event that took place on August 19. Several evo employees and tSB members came out to the event at Marra Farms to help garden, weed, plant, and learn about the sustainable food effort of Marra Farms.