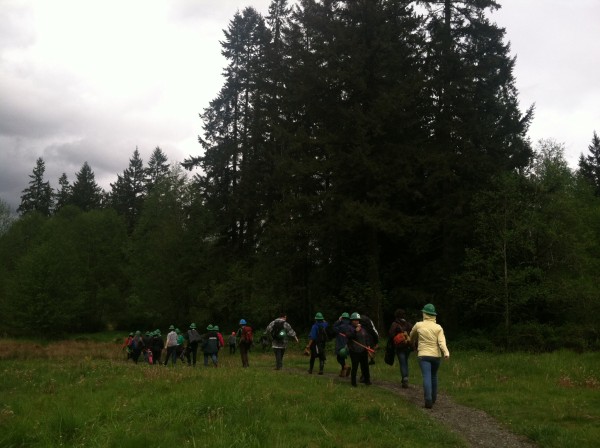 Blog by Anika, tSB 2014 Peer Leader
The morning of the WTA trip, it was raining. It was a Sunday morning, and the previous week had been distractingly beautiful – it's statistically impossible to get schoolwork done when the temperature outside is 70+. Trail work, which is what the Washington Trails Association does, is pretty much the opposite.
I didn't expect many people to show up. I got to the tSB offices perfectly on time and there were only about fifteen people there. I wasn't about to blame anyone who looked outside and decided against driving out to Evan's Creek and sliding around in the mud for four hours; if it wasn't for how much I genuinely enjoy volunteer work, I would've done the same. However, a solid amount of people ended up trickling in, and we all trundled off in our various modes of transportation.
As it turned out, the day was paradoxically fun. It doesn't sound particularly fun to lug rocks up a muddy trail while the trees drip on you: it sounds kind of awful, actually. But it was good. It was backbreaking, slippery, muddy, slightly terrifying, and absolutely satisfying. At the end of it, not only was I proud of myself and my group for making a tangible difference in the development of the trail we worked on, but I was proud of the tSB group that had organized the service project in the first place.