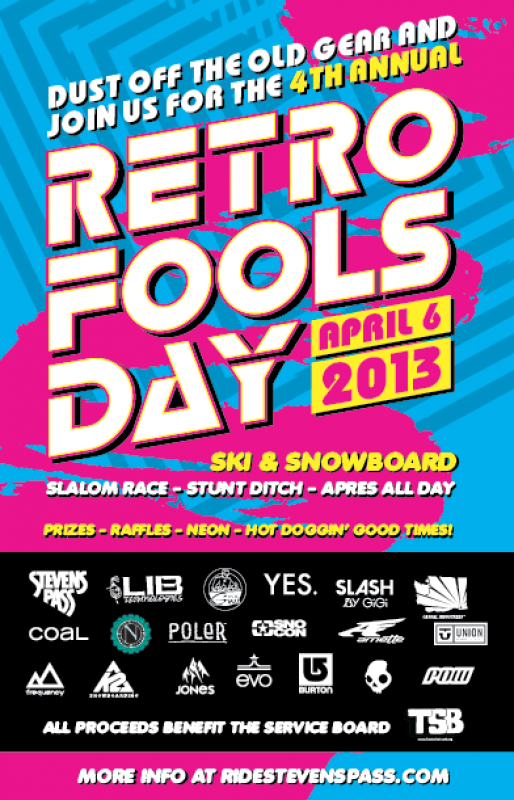 Time to bust out those old straight skis, directional snowboards, one-piece snowsuits and radical attitude for the Retro Fools Day!
There will be a mega prize raffle and awards for best dressed, fastest time, best trick, and most radical. The older and more retro your gear the more style points you get in the stunt ditch and quicker time you post in the downhill slalom race.
TIME DEDUCTIONS FOR SLALOM:
Remember that the the more retro your gear the more seconds you will get deducted from your time. If you decide to rock new gear you will be penalized with seconds being added to your time. Additional accessories such as walkman, old school googles, and fanny pack will get you bonus time deductions. Judges have final say on exact time deductions but can be bribed with cheap beer.
Time deductions:
Retro Jacket: -1 sec
Retro Pants: -1sec
One Piece: -3sec
Old Board/skis: -1sec
Old Boots: -3 sec
Monoski: -7sec
Snowblades: -5sec
Post-2000 Board: +10sec
Post-2000 Ski:s +10sec
REGISTER ONLINE HERE, and download the event waiver form HERE (under 18 must have parent signature).  Registration is only $20, which includes a limited edition t-shirt and an automatic $10 donation to the Service Board! All proceeds from RFD4 will benefit the Service Board (www.theserviceboard.org), which is rad.
Event timeline:
9-10am – Registration in Granite Peaks Lodge
10:15am Group Run to the start of the race course
10:30am Downhill Slalom Race
2:00pm Stunt ditch
4:00pm Awards at the Bullstooth
5:00pm RV Lot Après